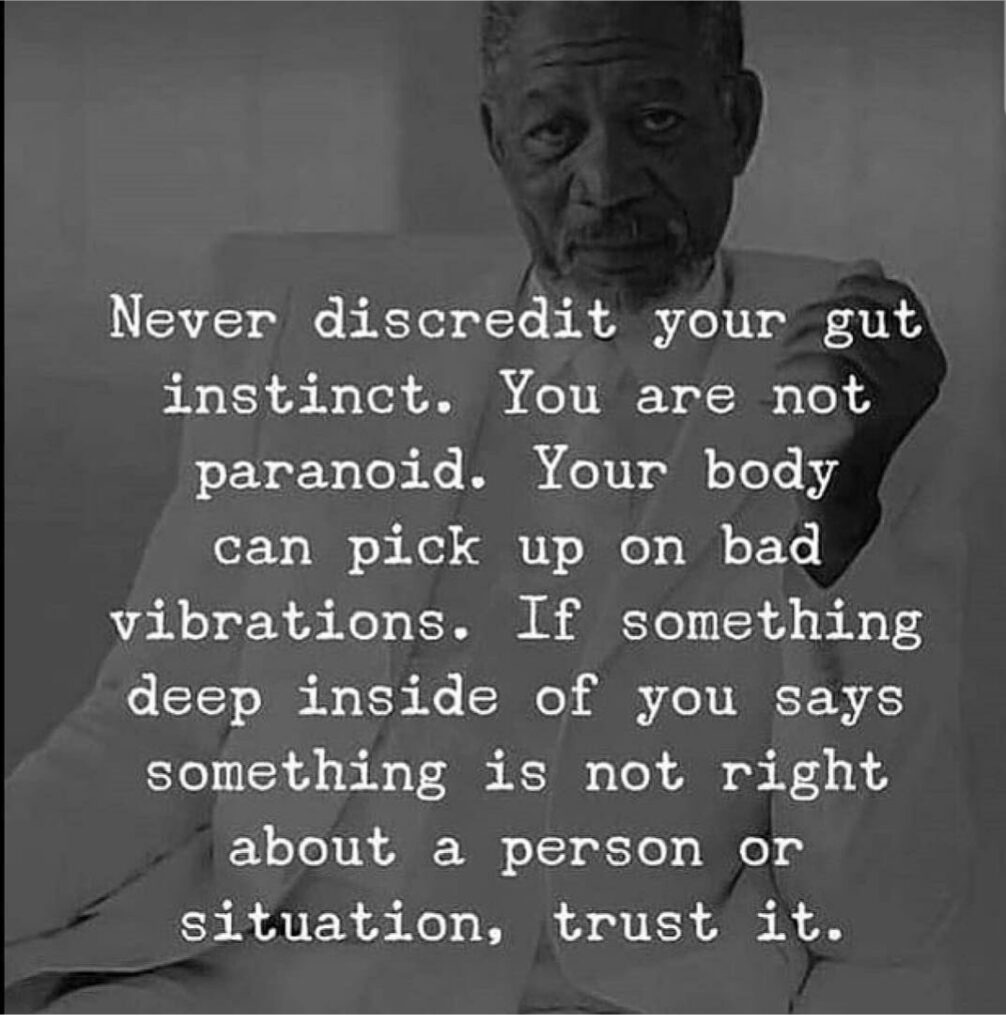 What is Gut Instinct?
Gut instinct is defined as: gut instinct or intuition, is your immediate understanding of something; there's no need to think it over or get another opinion—you just know. Your intuition arises as a feeling within your body that only you experience. … Because of this, trusting your intuition is the ultimate act of trusting yourself.
But is there a difference in our gut instinct and our intuition? To me, gut instinct is more of our bodies way of telling us something. Our primal wisdom or voice. Our intuition, to me, is more of a connection in our mind or a spiritual wisdom or voice.
Pay Attention to your Gut Feelings!
I believe in paying attention to your gut feeling. Here is one of my stories when I listened to my gut and I was glad I did.
Years ago when I was about 18 or 19 me and my friends hung out in Gainesville on Friday and Saturday nights. This particular night a car went up the road passed the parking lot we were all hanging out in. (Bare in mind this is where every teenager was at that time. We were cruising!) I looked at my boyfriend and I said "we have got to get out of here. That car is going to come back and they have a gun. It's my gut feelings again." Luckily, my boyfriend knew how I was with my gut feelings and didn't ask questions. We jumped into his car and were at the top of the driveway when sure enough the same car drove by on the same side of the street that we were all on and fired a few shots. No one was hurt.
What Feelings to Listen to.
1 – I am in danger or someone else is in danger. When you "feel" that you are in danger or someone else is in danger, listen to your body. Your primal voice is telling you something. Your body knows something that your mind doesn't yet.
2 – This is not the right choice for me. Sometimes you don't know why something is wrong for you, you just feel it. Listen, and take time. If it is the wrong choice you will be glad. If for some reason it is the right choice then it will come back around to you.
3 – I need help. This one, to me, can be a wide range of ways that we need help. This can be when you feel like you are in danger, when you are sick, or when you feel that you need help and need to talk to a therapist. There are times when we simply feel that something is off with our bodies, and we need to seek help.
This link https://lonerwolf.com/gut-instincts/ has a list of 7 gut feelings that should not be ignored.