The SkyeHelps Team
Our team at SkyeHelps is our strength. What began as one woman working alone has grown into a rich community of people who care deeply for those they serve. The SkyeHelps group includes experienced professionals, talented students with unique skills, local leaders, and even a dog.
Skye McIntyre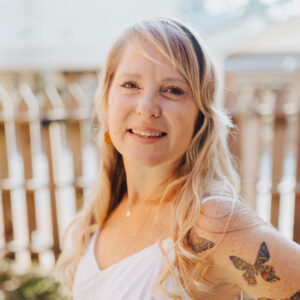 I am Skye McIntyre, the founder and leader of SkyeHelps. I am learning, growing, and changing everyday. The struggles I have endured and the education I have earned combine to make me a very patient, present, and helpful therapist.
My experiences are an important part of my education. They shaped me as much or more than any of the formal training I completed, and I believe that the lessons I learned are worth sharing. I learned to listen, I learned compassion and gratitude, and I learned to persevere. I experienced depression, anxiety, and PTSD. I still do. I learned to love deeper, live better, and control my intent. But most of all, I learned to grow!
SkyeHelps is the product of my passion, formal training, and life lessons. It's where I bring together the raw ingredients that make me who I am. It's where I find fulfillment by listening to your stories and helping you make sense of them in the context of your other life experiences and the people and world around you. And, because I've had to do the same things that I ask you to do, I get it. No, our experiences are not exactly alike. But, they're more similar than they are different, and I'm also not afraid to listen to you and hear about your specific feelings. You can tell me anything and receive unconditional positive regard in return.
My story helps me be the best counselor I can be. When you choose me, you choose a counselor who:
Has compassion and empathy
Who listens well and can teach you to listen too
Who can help you make a plan for growth
Who will hold you accountable but understands your limitations, too
My story includes others
My story is the story of my children, my partnerships, my family, my friends, my education, my patients, and my life's work. There are many people in my life, and the person I am today was molded, in part, by every person I have come in contact with. After we meet, you, too, will become part of my story.
My story includes formal education
Maybe you have been to counseling before. Maybe you have never been to counseling. Either way, science tells us that the very best outcomes for therapy are based on whether you like your therapist and whether or not you think your therapist likes you. Find a therapist that you genuinely connect with, and find a therapist that has appropriate training for what you need.
A qualified Licensed Professional Counselor, like me, is equipped with the proper therapeutic tools and the clinical knowledge of how to apply those tools on a case-by-case basis. I am creative enough to know that sometimes old tools can be used in new ways. Most importantly, whoever you choose, you also want them to have enough life experience to know that sometimes the fancy tools are no substitute for the simpler methods such as insight, clarity, empathy, and genuine care. Sometimes you just need a hug.
I never stop learning, and I always try to do part of my thinking "outside the box." The goal, as I see it, is to provide you with the very best counseling experience possible, and that means that I spend a lot of time learning about the tools of my profession and keeping up-to-date with new ideas.
Credentials and Education
Master of Science, Clinical Mental Health Counseling
Bachelor of Science, Psychology
Certificate of General Mediation
Mediation Specialist Certificate: Domestic Relations
LPC (Licensed Professional Counselor), GA
CPTS (Certified Professional Trauma Specialist)
CPCS (Certified Professional Counselor Supervisor)
IFS: 40 Hour Certificate in Foundations of the Internal Family Systems Model
Experience
After earning my undergraduate degree in psychology, I worked as a Therapeutic Wilderness Instructor at a boarding school for Oppositional Defiant youth. There, I learned Behavioral Modification and a lot about myself as a leader. In my graduate work, I studied mostly variations of Cognitive Behavioral Therapy and was very drawn to Rational Emotive Behavioral Therapy. During my clinical, internships, and pre-licensure, I accumulated a wide range of clinical experience including working with children and adolescents under psychiatric care, assessing adults for all manner of clinical disorders, and learning to sit with individuals' traumatic stories.
As I experienced my own trauma and as I heard others' traumas, I began to see how complex, pervasive, and demanding trauma is on our thoughts, actions, feelings, and beliefs: untangling, rewinding, fast-forwarding, and falling all at the same time, all day every day. Constantly alternating between overwhelmed and completely numb becomes the whirling compass of our everyday existence. I needed to learn to help myself so I could help others.
My experience as a trauma victim has deeply informed my understanding of trauma treatment. My training and personal healing journey utilizing EMDR, IFS, and my own method I call The Tree, has been long, arduous, educational, and rewarding. I've done a lot of the hard work so you don't have to. I figured some stuff out and can help you sort through your stuff too.
I supervise each patient counseled by Bryce Barrett, Ashlynn Rivers, and Emily Weller.
Skye's Pricing
Intake $250.00 Session Fee $175.00
Bryce Helps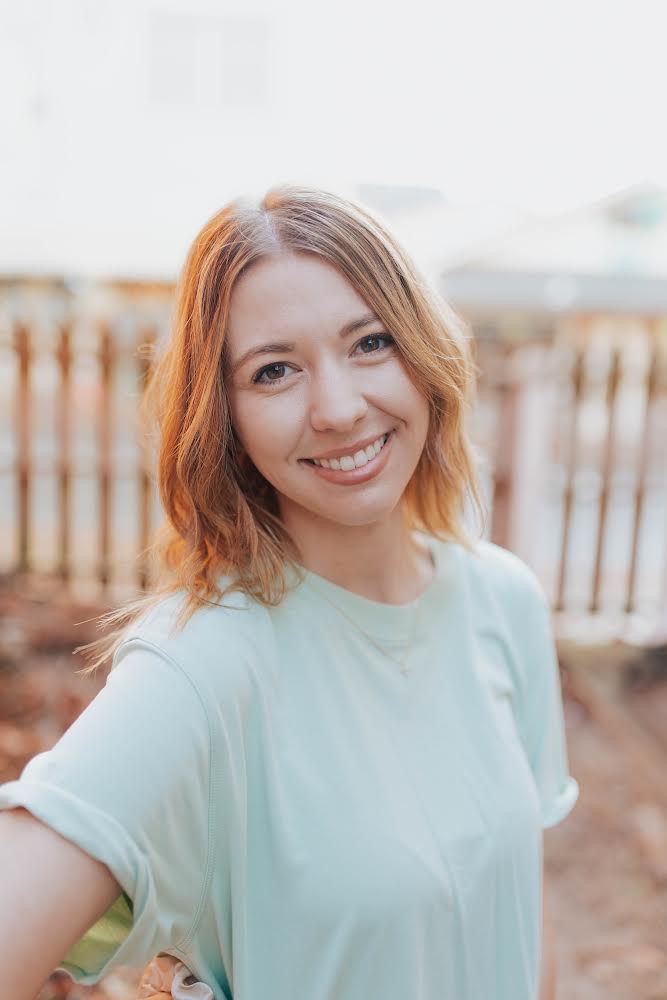 I came into the counseling profession as a true 'Wounded Healer'. My experience as a trauma survivor has led me to confront my suffering and come to a deep understanding of the process of healing. And as I've learned, it truly is a process! I've had moments of getting 'stuck in the swamp' of my own emotions and responses, and times where I've found my way through and into greater experiences of understanding and self-compassion. I've had to learn the hard work of finding acceptance, developing self-trust, setting boundaries, and knowing when to hold on and when to let go.
One of my favorite quotes by Henri Nouwen states: "Our service will not be perceived as
authentic unless it comes from a heart wounded by the suffering about which we speak…."
I'm a counselor and will forever be a client. I believe in the transformative power of counseling because I've experienced it firsthand, both in my own life, and in the lives of the clients I serve. I am an effective counselor because I have learned to mobilize my own wounds in a search for greater humanity and understanding of others. As Nouwen writes, "when our wounds cease to be a source of shame and become a source of healing, we've become wounded healers." I can meet you in your pain because I've also had to meet myself in my own suffering, time and time again. I've also allowed that suffering to transform and create in me an open heart toward service which has led me down many paths, including being a counselor.
Maybe you're a client who is looking to grow and engage more deeply with life. Another term for healing could be self-knowledge. No matter where you are at in life or what your experiences may be, we can all benefit from coming into deeper internal knowledge of ourselves and ourselves in relationships with others. Therapy is a gift you can give yourself in all seasons of life. I've found on the other side of healing are safe spaces where we can experience meaningful connection, grow in learning, find our passions, and engage in life more abundantly.
We all, at times, can benefit from added support when walking through transitions and
challenges that life inevitably throws our way. I see counseling as a safe place to bring your
entire self, your authenticity, your joys, and your sorrows. Most of all, I see counseling as a
relationship based on growth, compassion, trust, acceptance, genuine care, and even humor.
Wherever you are at in your journey, that's the best place to start. I'll meet you there.
Credentials and Education
~Master of Science, Clinical Mental Health Counseling
~Bachelor of Science, Counseling Psychology
~APC (Associate Professional Counselor), GA
~EMDR Trained (Eye-Movement Desensitization and Reprocessing)
~Expressive Arts Therapy: 30 Hour Certification in Trauma-Informed Expressive Arts
~TF-CBT Certified (Trauma-Focused Cognitive Behavioral Therapy)
My Approach
My approach to counseling is grounded in an understanding of Psychodynamic theory. Meaning, I think the past and early-life experiences lay the foundation for our future experiences. I see these core experiences as developing the landscape for our future emotions, thoughts, behaviors and ultimately our beliefs. My goal in therapy is to facilitate an environment where you can gain insight around these experiences and come into greater knowledge of yourself, others, and the systems which influence us.
There is no 'one-size-fits-all' approach to therapy. I am an integrative counselor who utilizes
various modalities and interventions including Narrative Therapy, Cognitive Behavioral
Therapy, Dialectical Behavioral Therapy, and Existential Theory. I have also received training
and am working toward greater competency in somatic-based therapies including EMDR and Expressive Arts Therapy and am receiving ongoing training and support in learning to integrate these two modalities. Additionally, I engage in 'parts work', as described in various theories such as Internal Family Systems, Ego State Therapy, and Gestalt Therapy.
In my work with children, I often combine approaches based on client need, including,
behavioral approaches (TF-CBT/CBT), Expressive Arts Therapy, Attachment theory, Adlerian play therapy, and Jungian Play therapy.
Areas of interest include:
-Trauma therapy/working with survivors of abuse and sexual assault
-Adjustments and Life Transitions
-Child & Adolescent Counseling
-Mindfulness/Self-Compassion Work
-Issues regarding Spirituality & Religion
Bryce's Pricing
Intake $250.00 Session Fee $140.00
Ashlynn Helps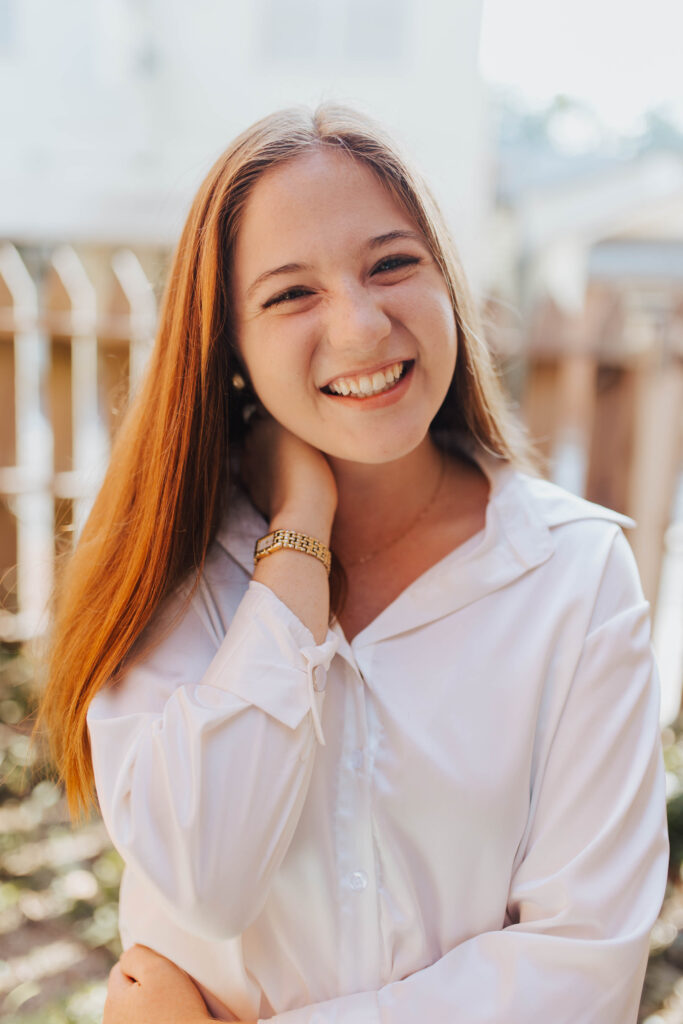 Hi! I'm Ashlynn Rivers. I am a graduate intern working towards my Master's of Science in Clinical Mental Health Counseling at the University of North Georgia. I am under the supervision of Skye McIntyre, LPC, CPCS. I enjoy hiking around Dahlonega, spending time at the lake, making lattes with my at-home espresso machine, and going on walks with my dog!
My personal story of childhood trauma and addiction led me to pursue professional counseling. As a child, I felt completely alone. I struggled with self-worth and identity. I felt a lot of shame and guilt, and I felt trapped in a life that no one would understand or forgive me for. I felt isolated and ashamed–caught between a hope for freedom and a loss for how to find it. Being able to find that freedom for myself and help others find their own freedom is my story.
In college, I found the courage to share my experience with someone else. With the encouragement of a close friend, I found a professional counselor to share my story with. They didn't push me away or tell me how unlovable I was. They accepted me and regarded me as the author of my own life. I felt such a relief to feel known and completely worthy of existing in the world. Since then, I've continued the journey of processing how my experiences shape who I am as a person and who I am as a counselor. I am still processing and learning from those early traumatic experiences and I use that personal journey to inform my clinical practice.
I have a heart for working with people who feel stuck. For those who have experienced abuse, shame, and hopelessness. I believe there is power in connection and freedom in processing our hurt. Having someone to sit with you while you untangle the hurt and figure out ways to move through your experience can be incredibly helpful. I've worked with survivors of trauma, people experiencing identity issues, and people struggling with addiction. I want to help people live their lives with a sense of wellness and experience healing. I would love to join with you in understanding who you are and where you'd like to be. Wherever you are; if you feel stuck, trapped, excited, confused, or anywhere in between, I'd like to join you there.
I believe the most important factor in counseling is the therapeutic relationship: the willingness to share your experience with someone else. There's nothing worse than feeling like the person you're sharing with doesn't get you. Genuineness, warmth, unconditional positive regard, and humor go a long way in building connection, trust, and safety. I would love to meet with you and build a space where you feel comfortable to explore, heal, and grow.
Ashlynn's Pricing
Intake $250.00 Session Fee $100.00
Emily Helps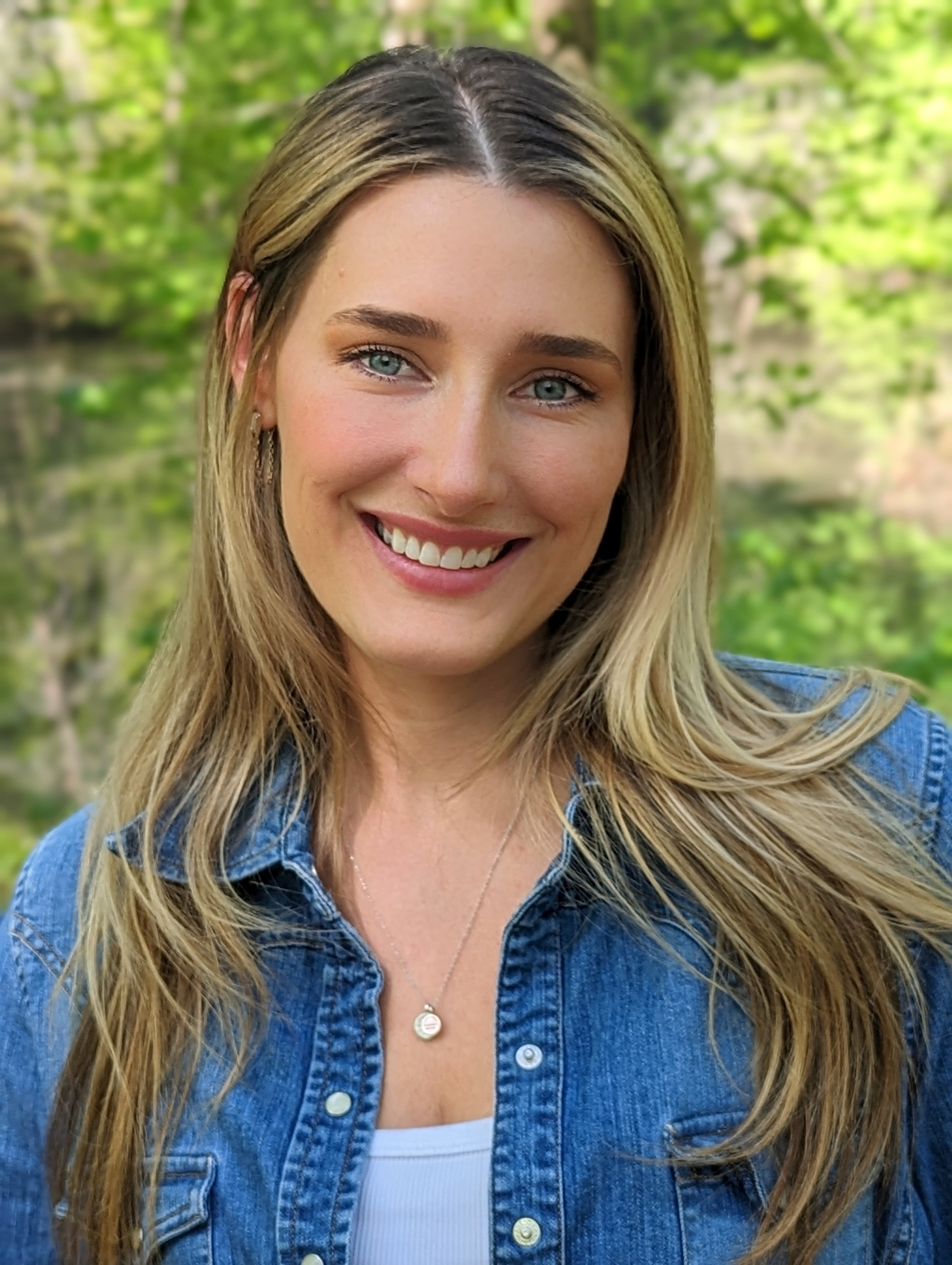 I am a graduate intern working towards my Master's of Science in Addiction Counseling at the University of North Georgia. I am also a Certified Sex and Intimacy Coach. I enjoy spending time creating stained glass art, listening to reggae music, and cultivating a slow life with my partner and our two cats.
My approach to counseling is inspired by a simple quote,
"Only to the degree that we've gotten to know our personal pain, only to the degree that we've related with pain at all, will we be fearless enough, brave enough, and enough of a warrior to be willing to feel the pain of others."
― Pema Chödrön
I accumulated a lifetime of pain, shame, hurt, and secrets before I began my counseling journey. I never felt like I could be my entire self and there were always parts of me I needed to hide away. I didn't feel like I belonged anywhere, so I found myself in unexpected and difficult situations time and time again. Without boundaries or support, my life became unmanageable and directionless. I continued to feel alone no matter where I went, who I was with, or how I appeared to be. I wanted to feel like my whole self, but to do that, I needed to get to know all my hidden parts. That process has been beautiful, gritty, and worth it. This path was not linear for me, and it continues to evolve and change shape.
Personal counseling allowed me to shine a light on shameful and unknown parts, and get to know myself in a deeply honest way. I finally sat with my pain and learned to relate to it. Through years of intentional seeking and learning, I have regained an exuberance for life by facing myself with truth and self-compassion. The painful experiences I have endured have deepened my ability to love and empathize with people who are hurting, seeking, and feeling lost. My passion is for people struggling with identity, boundaries, addiction, codependency, religious and sexual trauma. Whatever it is you are struggling with or seeking, we can walk through it together.
I have explored the dark and hidden corners of myself so that I can hold space for the entire spectrum of you and your healing. The therapeutic relationship allows us to meet ourselves with a trusted witness. As your witness, your secrets, and shame will not scare me. I will travel with you, and I will support you on your long journey home to your authentic self. Whether you are going through a life transition, feeling confused, alone, or seeking more fulfillment and joy in your life, there is hope.
In counseling, you can expect me to meet with you with an eclectic strengths-based, person-centered approach. I will meet you with acceptance and empathy as we navigate your inner landscape. My therapeutic approach is determined by your unique needs. You determine how you spend your time in counseling. I pull from various theories and modalities including Person-Centered, IFS, Feminist, Existential and Multicultural therapies. Together we will examine your strengths, values, relationships, patterns, and goals. My hope is to provide a shelter for you as you clarify, explore, dream, and transform.
Emily's Pricing
Intake $250.00 Session Fee $75.00
Blair Helps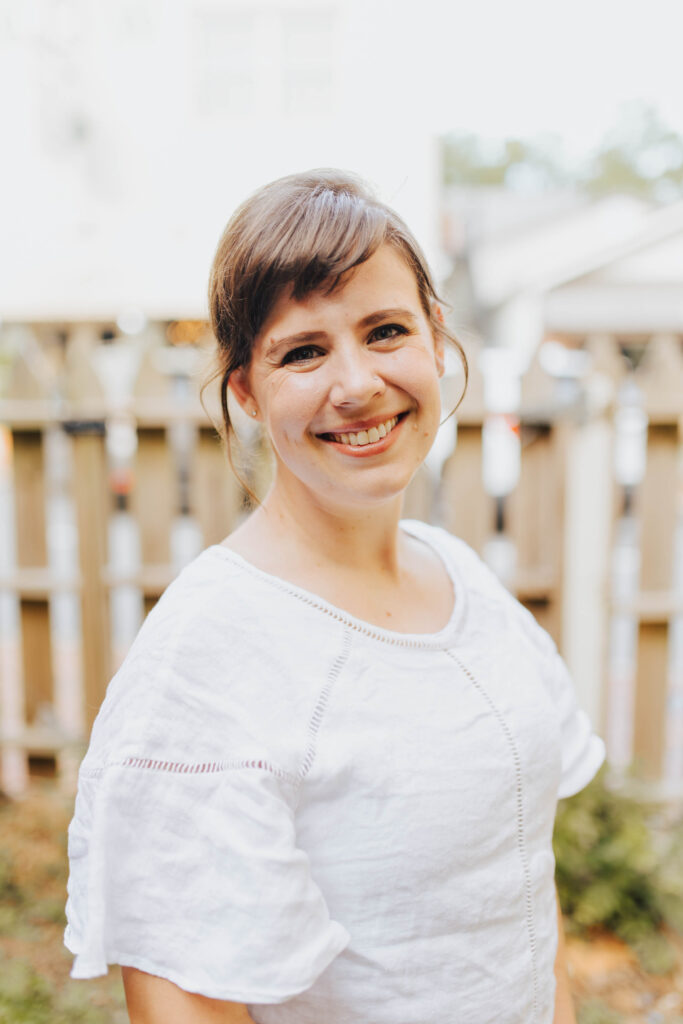 "YogaHelps"
Hi. I'm Blair. I teach yoga. The story that led me there is painful… but the fruit is sweet. I'd love to share it with you so we can know each other better. And, perhaps, you will be curious to explore what Yoga can offer to your journey as well. Here goes:
All my life I've had mental health struggles. At different seasons this has included wildly disordered moods, extreme panic disorder, physically crippling anxiety, all 50 of the grey shades of depression, eating disorder, self harm, agoraphobia, chronic pain, and obsessive compulsions. There has been suffering in my story. But also hope. Things crumbled… but then they had a second chance. The end result is very different than I expected. But also more beautiful than I could have imagined.
I was raised in a strict, fundamentalist religious household. My parents were good people, but my psychological issues didn't fit into their world view. They chalked my struggle up to a "desperately wicked heart." They said I could only change if the Holy Spirit magically transformed me. My only hope was prayer. I wasn't given any other resources to understand or support my experience. In fact, I have a vivid memory of the day my mother warned me never to go to a psychiatric doctor and to be very wary of therapists, because if people found out, no one would be my friend, no one would trust me, no one would marry me, and I would never get a job. I believed her.
So, when I had a clinical level mental breakdown at the age of 24 (becoming catatonically depressed, suicidal, and unable to leave my house without passing out from panic) I had a lot of work to do.
Everything came crashing down. I was left in a Rubble Heap of old patterns I could no longer sustain. Patterns of harsh perfectionism, work addiction, ignoring my body, and controlling everything. Those parts of myself had been working so hard for years to manage a terrified little girl inside me who believed I was never going to be enough, never going to be safe, and never going to be loved. But there were Riches in the Ruins.
My first invitation toward a new way of being came in a yoga class. The ancient, wiry lady who taught the class at the YMCA said, "Notice the little part of you that feels calm, confident, and easy… This is your True Self… you can return here whenever you need to." That sentence changed my life. First it terrified me, because I had been brought up to see myself as "desperately wicked"; my best efforts a pile of "filthy rags"; utterly beyond hope "apart from Christ." But still the sweet allure of this sentence called to something deep inside me that needed help.
I revisited my theology. Personally, I needed to start there because it was the source of so much of my rigid inability to seek healing. As my faith was healed (transformed from an angry, ruthless grumpy thing into a warm, welcoming, loving view of the world) I began to soften enough to receive what Yoga had to offer.
Yoga offered practical tools to have a healthy body, mind, and spirit. I began to learn a new way of interacting with the world. Here are a few of the most important lessons:
First, Yoga taught me to welcome all the subtle layers of my experience. Welcome tired, energetic, sad, happy, angry, calm, weak, powerful, vulnerable, and fierce. Welcome certainty and uncertainty. Welcome fear, disgust, silliness, and play. Welcome mischief, seriousness, passion, boredom, my deep parts and my frivolous sides. Welcome it all. Welcome each one as a messenger intending to point me toward what I really need in the moment. If I could welcome them, then I didn't need to suppress, reject, or resist anything. I could invite it all up to the surface, and then choose how to respond. Many symptoms in my body which had seemed random and out of control began to heal, as I simply noticed what was happening.
Next, Yoga taught me that I wasn't trapped in my experience. I did have a choice. I did have agency, efficacy, and power. I learned that I could steer my body with non-judgmental awareness, muscle relaxation, and breath. I could, literally, move myself away from suffering and toward comfort and ease.
Little by little, Yoga offered me it's best lesson of all: There is No Perfect Performance. That's why it's called A Yoga "Practice." Each day brings fresh opportunities to flourish, fall on our faces, flail ridiculously, and make friends with ourselves. Our True Self. That calm, steady Self; the Friend within. It goes with us wherever we go. We can return there whenever we need to. That's Yoga.
If you are interested in cultivating a practice of your own, I would love to support you in that. True Yoga meets you exactly where you are. You don't need to be fit, flexible, or even "ready." You just need to show up. Come as you are. Yoga Helps.
Blair's Pricing
Intake $250.00 Session Fee $100.00
Nina Helps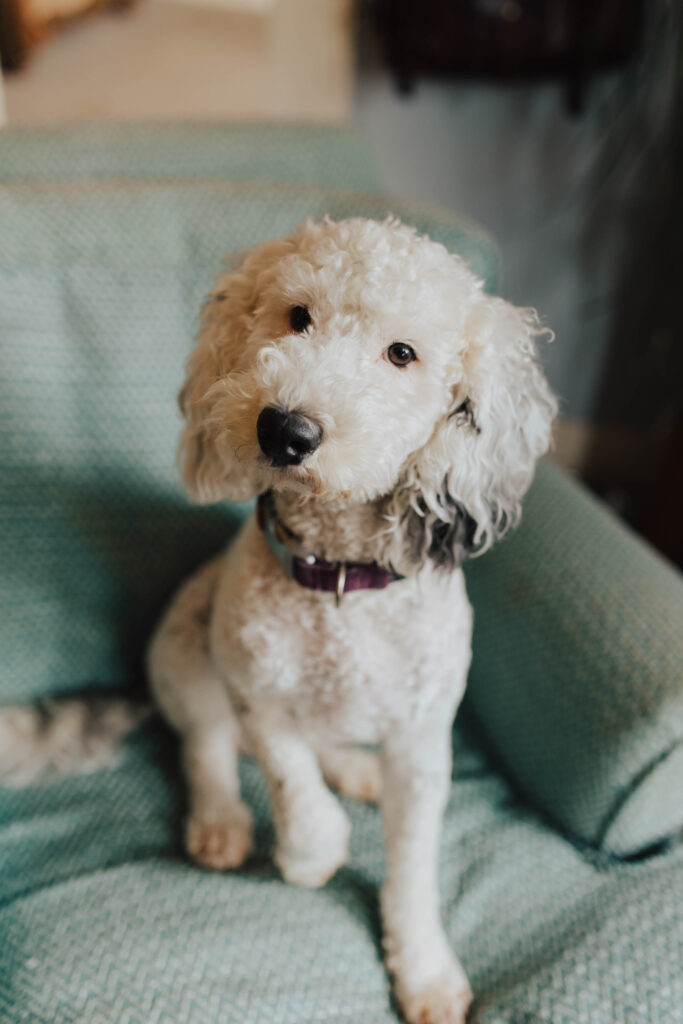 Nina is the SkyeHelps' Emotional Support Animal. If you enjoy dogs-in-therapy, she can snuggle with you on the couch or lay on the floor. If you don't enjoy dogs-in-therapy, she is just as happy in her kennel. We can also take Nina with us on a walk-and-talk around town or to the local coffee shop.
Nina is a Micro-Mini Bernedoodle. She is 75% toy poodle, 25% Bernese Mountain Dog, and 100% pure love. She is bred to be hypo-allergenic, non-shedding, intelligent, kind, and goofy. (Yes, breeding for goofy-ness is a thing.) She loves to snuggle, lick, and take frequent naps throughout the day.
When she's not at work, Nina enjoys snuggling, licking, and taking frequent naps throughout the day.
Nina's Pricing
Free snuggles all day